2023 ▷ Best Download Manager for Linux [IDM for Linux]
Fast internet connections are widely available these days, which makes downloading files a breeze.
However, large files can still take a long time to download, and sometimes connections can be unreliable.
That's where download managers come in. A download manager is a program that helps manage the downloading of large files from the internet.
Best Download Managers for Linux
Download managers can provide a number of features that make downloading faster and more reliable, including the ability to pause and resume downloads, schedule downloads for specific times, segment large files into smaller pieces for more immediate downloading, and more.
In this article, we'll look at 3 of the best download managers for Linux, along with their key features, pros and cons, and pricing information.
Free Download Manager (FDM)
Free Download Manager (FDM) is an open-source download manager with versions available for Windows, Android, macOS, and Linux.
It has a clean interface with support for pausing & resuming downloads as well as scheduled & accelerated downloads. FDM can also capture videos from popular video-sharing websites and convert them to MP4 or MP3 format.
FDM Pros
Open source
Ads FREE
supports pausing/resuming & scheduled/accelerated downloads
can capture videos & convert them to MP4 or MP3 format
FDM Cons
Some users find the interface confusing
Video Download Panel does not appear always.
Pricing: Free
uGet
uGet is an open-source GTK+ based download manager available for Linux & BSD systems with versions also available for Windows & Android devices.
It has an appealing minimalistic interface with support for batch mode downloading and advanced features like Metalink & BitTorrent support, a zone preview tool to check file types before they are downloaded & more.
uGet Pros
Open source
supports batch mode downloading
plugin support adds extended functionality
uGet Cons
No obvious cons
Pricing: Free
JDownloader
JDownloader is an open-source cross-platform java-based application that simplifies & automates the process of downloading files from services like Rapidshare or Megaupload.
Because it is written in java it can be run on any system with a java runtime environment present.
JDownloader Pros
Open source
cross-platform compatibility
automate the process of downloading
JDownloader Cons
Pricing: Free
Xtreme Download Manager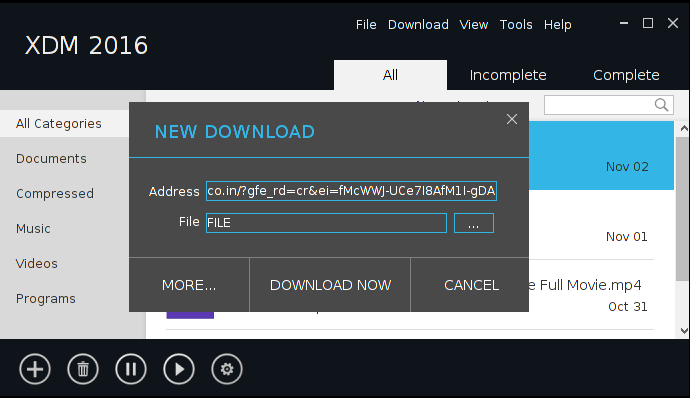 Xtreme Download Manager(XDM) is yet another open-source download manager written in java but with cross-platform binary releases.
It comes bundled with adware but there are some unofficial binaries that don't have adware.
XDM Pros
Cross-platform compatibility
unofficial binaries don't have adware
XDM Cons
Bundled with adware in the official release
Pricing: Free
Conclusion
With so many great options available, there's sure to be a download manager out there that's perfect for you regardless of your needs or operating system preferences. All of the options listed here are free so you can try them all out and see which one works best for you without spending any money!